February 14, 2019
Dueling Duo Show
The Dueling Duo - Ryan and Andy - bring their unstoppable energy and all request show to Sioux Falls for an evening of entertaining fun that benefits The Compass Center.
Join us for an evening of high energy fun! The evening kicks off at 6:30 with a social (dinner at 7 pm) followed by the Dueling Duo piano show at 8 am.
Your ticket will support more people like Kelsey, who is a survivor of sexual assault. When Kelsey first came to The Compass Center for counseling, she was worried about the cost.  When she found out that all survivor services here are completely free, she cried "tears of gratefulness." Your support of The Compass Center means we can continue to help Kelsey and many others like her with free counseling and other services.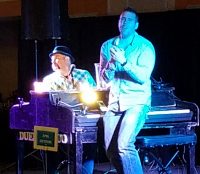 Date

April 27, 2019

Time

6:30 - 11:00 pm

Location

Hilton Garden Inn Downtown
View Map