February 3, 2021
Compass Center Gala 2021 Goes Hybrid!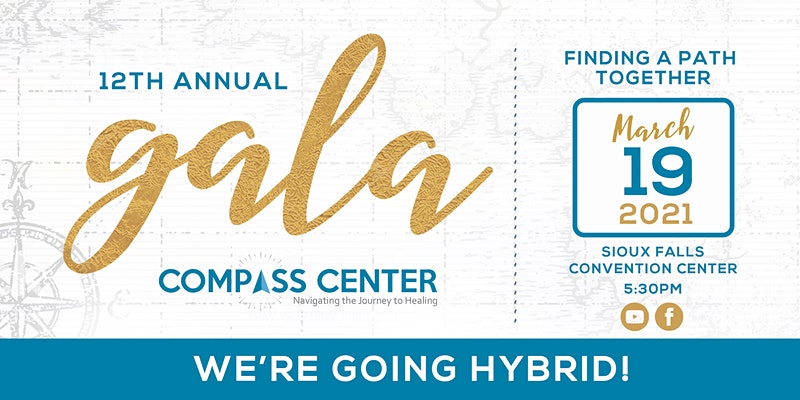 The Compass Center Gala (formerly known as "It's In The Bag") is the premiere fundraising event of the year for the organization. Join us for the 12th annual event on Friday, March 19th at the Sioux Falls Convention Center or virtually via Facebook Live or YouTube.
The 12th Annual Compass Center Gala is an evening event to raise awareness for the mission of The Compass Center and honor the impact and important role it plays in our community. Funds raised at the event will be used towards expanding the reach of impact of The Compass Center by supporting initiatives such as:
EXPANDED TELEHEALTH DELIVERY TO REMOTE COMMUNITIES:
Large portions of South Dakota are classified as "mental health deserts"…expanding on innovations made during the pandemic will allow Compass Center services to reach more rural communities.
PLAY THERAPY PROGRAM EXPANSION:
A partnership with another local nonprofit would allow for Play Therapy services to be imbedded into a therapeutic daycare setting, providing intensive services to child victims of abuse by utilizing their native language – play – to process their experiences in a developmentally appropriate way.
PARENT-CHILD INTERACTION THERAPY:
Family-based therapy that helps mend relationships strained by the aftermath or abuse and trauma.
RAPE CRISIS HOTLINE:
Provides a trained advocate any time a sexual assault is reported at an emergency room or on the crisis hotline. Advocates offer victims emotional support, advocacy, information, and referrals to counseling and other community resources.
With the COVID-19 pandemic occupying our thoughts and the various recommendations made by health officials, we have made the decision to move our 12th Annual Compass Center Gala to a hybrid event – featuring a smaller in-person event being hosted at the Sioux Falls Convention Center (with COVID precautions in place), with the option of also being able to participate virtually on The Compass Center's Facebook and YouTube pages.
The 12th Annual Compass Center Gala provides an opportunity to connect and network with business leaders, influential community members and advocates, and staff members of The Compass Center. The evening will feature a sit-down dinner, desserts, interactive games and opportunities to bid on a unique selection of auction items.
Dinner & Cash Bar
Live Auction (featuring Jonathan Larsen)
Silent Auction (bid from your phone!)
Golden Ticket Drawing
Wine Pull
Bourbon Pull